A 156 paged book, illustrated with 82 photographs and two maps, entitled REACHING AN UNREACHED PEOPLE GROUP: THE JEHAI OF THE TEMENGGOR FOREST, describes the background of the Jehai peoples.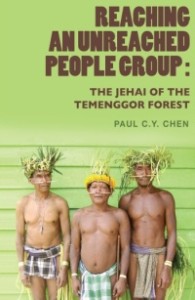 This book examines how Christians reached out and adopted a suffering displaced semi-nomadic tribe of Negrito Orang Asli located close to the Thai border over 400 km north of Kuala Lumpur. The tribe had been displaced by the Communist Insurgency and the flooding of their traditional tribal territories when the manmade Temenggor Lake, in 1975, flooded the fertile valleys of the Perak River in the Belum and Temenggor Forests. Having been deprived of their traditional subsistence base both by the flooding as well as by enforced regroupment of the Jehai by the government, the Jehai, began to suffer from under nutrition, malnutrition, disease and death.
The book contains the lessons that were learnt from the nine years of work among the Jehai who were adopted by a group of Chrstians. It is of particular interest to those concerned with evangelism among new tribes and unreached people groups and indigenous peoples such as the Orang Asli of Malaysia.
"This is a significant contribution to the missions in Malaysia. It is highly recommended for every local student in missions. It would inspire similar endeavors to reach other unreached groups in the country especially among the Orang Asli cluster". Doraisingam Manikam, Missions Director, Full Gospel Assembly
For copies of the book, please contact paulchen0777@gmail.com or fax 603-80683521.
Please download The Book on Jehai here